Join Scailer's final beta test!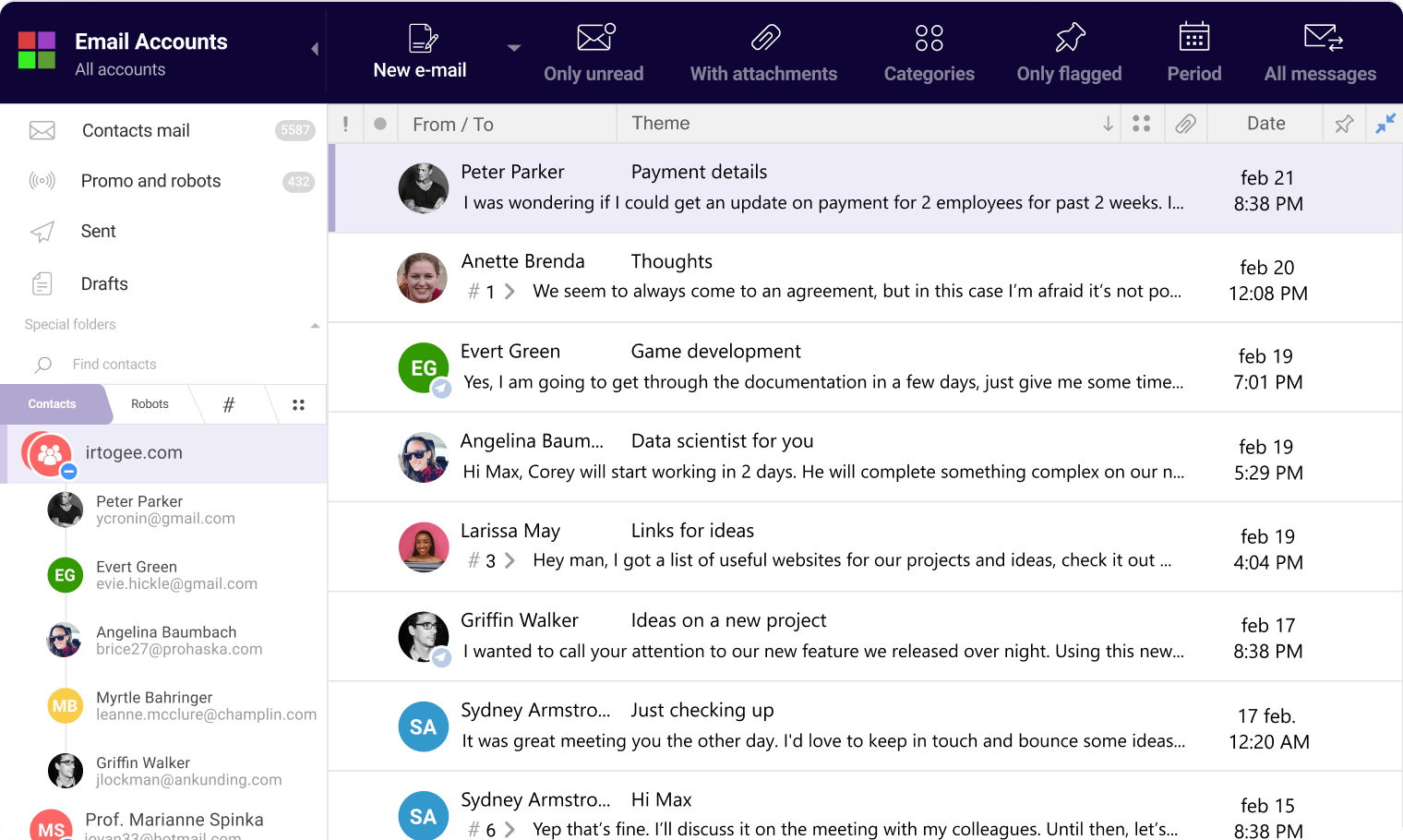 Scailer is getting ready for release, and we are inviting new users to take part in the final beta test by trying Scailer and letting us know what you think! The first 300 users to give us feedback will get the unlimited version of Scailer for free.
Scailer is the first email client for Windows and Mac Os that sorts email messages by contacts, just like WhatsApp and other messenger apps do. This means all contacts are created automatically as you send and receive emails, and you don't need to worry about creating endless folders or complicated rules. Incoming mail is automatically sorted by sender, rather than being dumped into an unsorted inbox like other clients do. Since your email messages are all sorted and grouped automatically, you will never have a mess in your Inbox folder again! 
At first glance, it may seem impossible to work without folders, but our test users have all found that after a brief adjustment period, they were able to respond to their customers and contacts faster and more easily than they ever had before. It may take you a week or so to get used to it when you try it, but we promise you - it's worth it!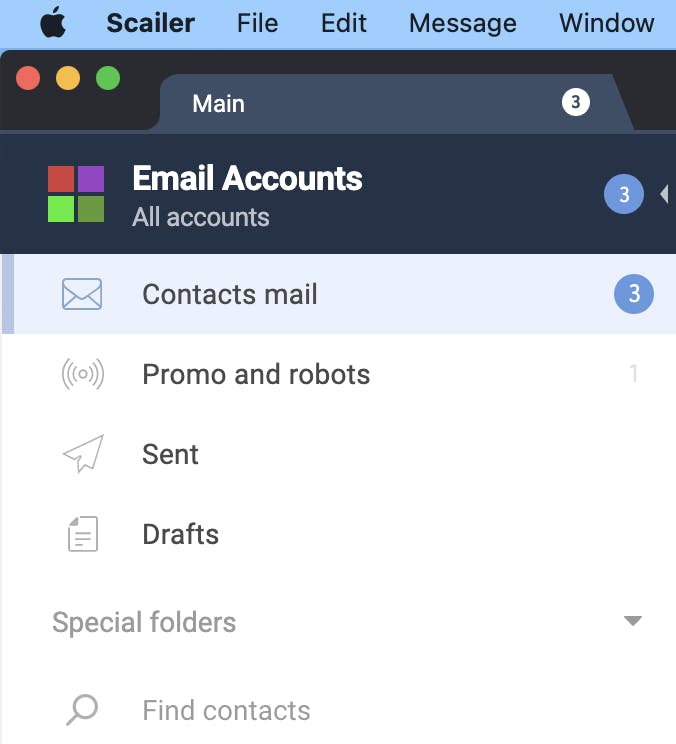 Another important feature of Scailer is that it will automatically work out whether an incoming email is from a real person or from a robot. Scailer keeps messages from real people - your contacts - in the "Contacts mail" section. To make sure you won't miss anything very important, Scailer will also sort specific automated messages into this section, like  order confirmations or password reset emails, and some others. Automatic newsletters or promotional emails will go into the "Promo and robots" section. 
Once you've added an email account into Scailer, you don't need to do any more setup - you can start using your email right away. You don't need to create folders, email rules, or categories  to make Scailer usable like you would with other clients. 

We believe Scailer will sort your messages in the best way for you right from the start. However, if you'd like to, you can teach Scailer to better sort the messages that appear in your "Contacts mail" section. If for some reason you see newsletters from a robot appearing in your "Contacts mail" section, then you can quickly move all messages from this contact into the "Promo and robots" section. Just right click on the message and select "Move this contact's messages to Promo and robots list". We recommend using this function only for a few contacts that send a lot of newsletters and rarely send important messages (like password reset or order confirmation emails). 
Scailer's patent-pending software includes unprecedented encryption that provides the highest levels of email security and virus protection at rest. Even if someone were to copy your database, they couldn't use another program – or even another instance of Scailer – to read it. Except for your email provider, Scailer does not use 3rd-party servers or databases to store emails.
We value the opinions of our users and we would love to hear your feedback, so the first 300 users to do so will get a lifetime license for free. Scailer will provide the link for feedback in 4 weeks after installation or you can write earlier at support@scailer.com.
Take part in the beta test by downloading Scailer today!
Sincerely,
Scailer Team.
Get Scailer for free
We are so confident Scailer will become an important part of your digital toolbox that we want you to try it for free. No tricks or gimmicks. When we move to annual subscriptions, Scailer subscribers will receive quarterly software updates and other improvements. If you're one of the first 100 users to give us feedback, you'll get updates for free, forever!