Scailer's New Release Includes Features No Other Email App Can Offer
Whether you use an inbox for personal or work-related email, it's easy to get snowed in by endless correspondence. It's no wonder that happens — 4 billion people globally use email to communicate with colleagues and partners, exchange learning and marketing materials, and share all sorts of information.
You need a good email app to get a hold of all the correspondence and use email to your advantage.
So let's see what makes Scailer the perfect candidate for your email communication toolset.
About the Product
Not a day goes by when your inbox is silent. Moreover, most emails don't come at a specific time. Rather, they trickle in throughout the day, stealing your time and impeding your focus.
You've probably also had to deal with combing your inbox, trying to find that important email sent a month ago, while on a call with a customer or colleague.
The team behind Scailer has experienced the same frustrations. That's how our developers, with a combined software experience of more than 50 years, decided to create an email app that tackles those issues.
"We decided that if we could write successful software for a space flight simulator, we could improve email functionality."
What Is Scailer?
Scailer is an email app that helps you access, manage, and even synchronize multiple email accounts into one unified inbox on multiple devices. And it's not a problem if all those inboxes are from different service providers.
Scailer's security features work regardless of your location or internet connection. In addition, Scailer helps solve a variety of problems with its exclusive collection of features not seen in other email apps. Let's explore the features that make Scailer unique.
Features
Scailer takes your email experience to the next level. Here are the features that make this app unique.
Why you need it
What it gives you
Multiple account management

Most email users have more than one account, but managing them can be daunting.

Scailer allows you to add all your accounts into one app and explore your emails from one inbox. The interface also helps with sorting all messages.

Sort by contact

It may be difficult to keep up on a trail of information without the ability to link related threads and contacts for context when discussing a subject.

Scailer helps you organize your inbox by creating a contact list. The app displays all of a contact's emails, both sent and received, by clicking their name.

More importantly, Scailer discerns robots from actual contacts, reducing clutter in your inbox.

Advanced search

Most apps have a search bar; nothing new there. But what if you need a little more help finding something?

You can click the magnifying glass icon to launch the feature window and specify your search by name, location, data, and other conditions.

Contact groups and teams

You may be messaging the same group of people, like partners, customers, colleagues, and family.

Managing such groups and communicating with them is more efficient in Scailer. You can merge contacts into groups and create teams. Most contacts will even merge automatically. This is especially useful for business emails, as it makes group communication easier than regular messaging.

Edit as new

Let's say you want to use the text from a previous email but need to tweak it a little bit. You have two options – copy and paste the text into a new email and make the changes or use the "Forward" option and make your edits before you hit "Send."

With Scailer, you can directly rework an existing email. The app comes with an "Edit as new" option that allows you to make amendments in an email before sending it.
These are only a few of the features built into Scailer's revolutionary email application. There's also a convenient and readable interface for long email threads. And Scailer is available both on Mac and Windows, so you can enjoy exploring the rest when you download the app on either system.
6 Reasons to Use Scailer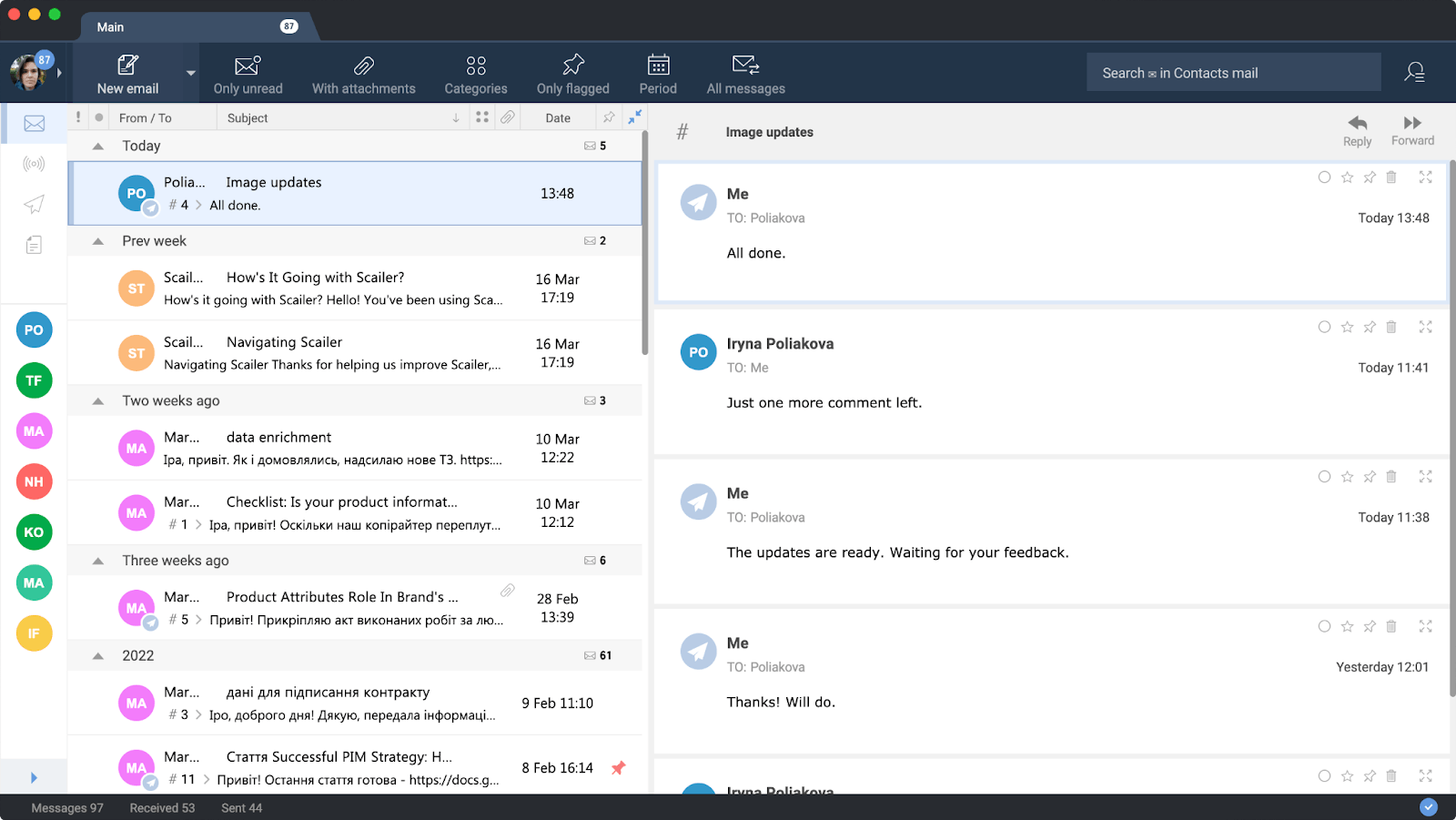 Still unsure if Scailer is the right choice for you? Check out some of the benefits of using it.
1. Minimalistic interface provides an easy-to-use experience
Scailer comes with an amazing user interface that presents a pleasant color scheme and intuitive design.
Streamlined information architecture and straightforward navigation are what make it incredibly easy to find what you're looking for. The simple UI quickly eases you into Scailer's extraordinary system.
2. Advertised content won't be much of a bother
How many times have you received junk advertising emails? With Scailer, you won't have to bother deleting these emails. All your subscriptions will be filtered into the "Promo and robots" folder, so they won't distract you from more critical messages.
3. Categorize messages by active contacts
You can prioritize your most active contacts to help you process your contact list more easily. In addition, you won't have to sort through your contacts, as the app will do that automatically for you, based on your most recent emails and contact activity.
4. Safe email communication is a top priority
When it comes to security, Scailer doesn't store your critical information. The app also uses encrypted connections to safeguard messages from the sender to the receiver, with no third parties involved.
What does this mean for you? Well, in case someone gets ahold of your computer's hard drive and tries to read it from their own device, they won't be able to read your emails, as they are all encrypted with a machine-dependent password.
5. End-to-end encryption (E2EE) ensures the safety of your email content
Scailer saves encrypted messages on a hard drive with a machine-dependent key. So even if someone steals your hard drive or it's infected with a virus, the cybercriminal won't be able to access and read your emails.
6. Phishing detection helps ward off cybercriminals
In addition to heightened security, Scailer also includes improved phishing filters that automatically detect such emails and hide them under the "Promo and robots" tab. The app also removes any extra content, such as images and links, minimizing the risk of being scammed even if you do open such messages.
Final Thoughts
Does your current email app fail to satisfy all your needs? Or are you still stuck with webmail? Scailer is a desktop email app with an advanced approach to managing all your correspondence, even if you have multiple accounts.
Scailer comes with a convenient unified inbox, advanced contact sorting, and incredible security.
The best part Scailer? You can use it for free! In addition, updates will roll out quarterly, and users are not expected to pay for them.