How to Set Outlook as the Default Email Client on a Mac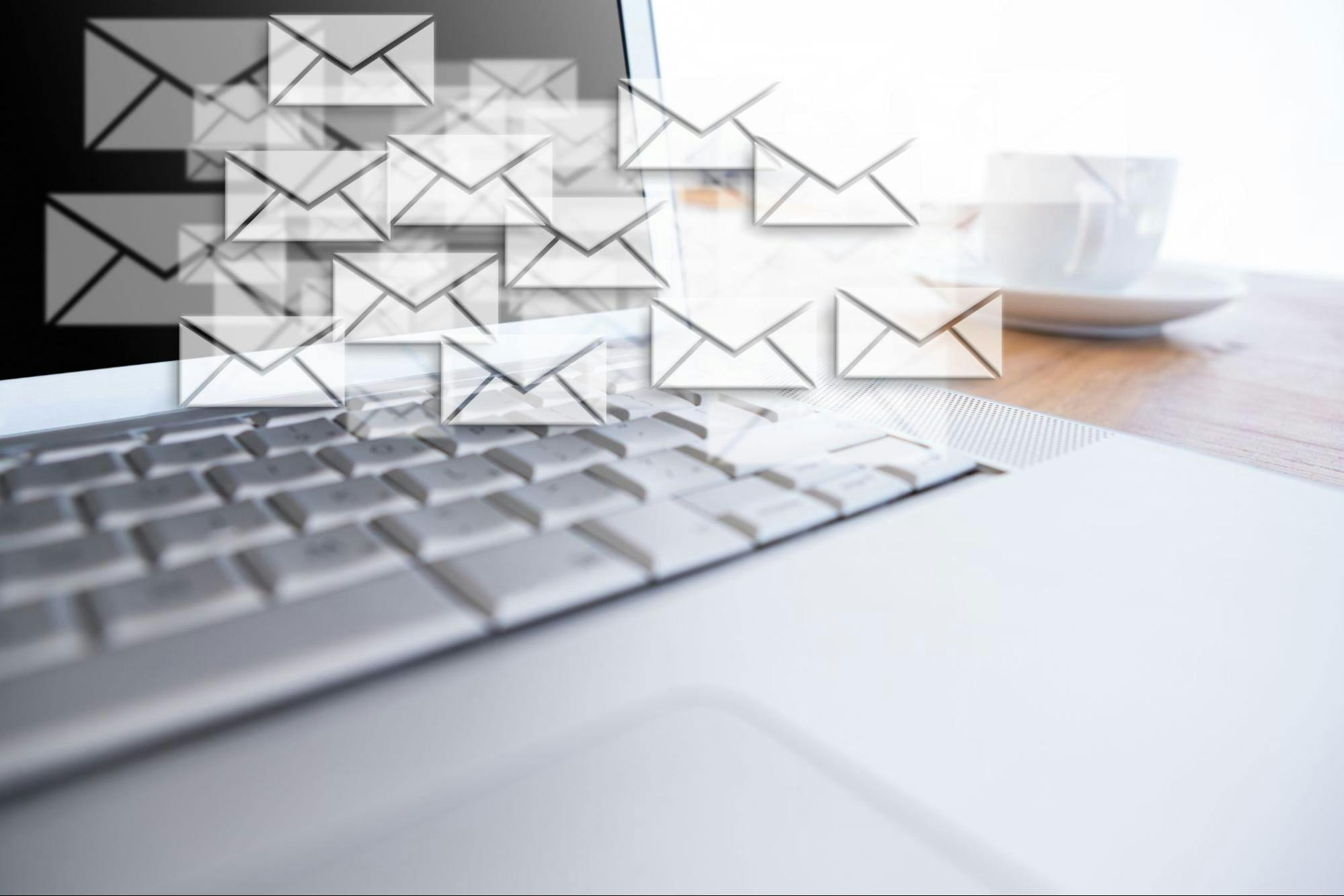 All MacBook models come with built-in apps, such as Calendar, Maps, Music, and even Mail. Although the email app developed by Apple is efficient and works well, many Mac users prefer to use an alternative — like Microsoft Outlook.
Microsoft Outlook is one of the most popular email clients, as it provides its users with complete control over their emails. It's easy to navigate and does a good job of preventing data loss.
But it's not always that smooth. Are you tired of Apple Mail constantly popping up as the default email app? We've prepared a guide on how to set Outlook as the default email client on Mac devices for users looking to switch from the Mail app.
What Happens When You Change the Built-In Email Reader on a Mac?
Many Mac users who want to change the default Apple email client worry about whether there are any consequences. The good news is, there are absolutely none! And you can even switch back to the Mail App at any time.
If you change the default email application on a Mac, Apple Mail will stay as it is. It will continue functioning as before, and all your emails will remain as they are. You will still be able to use the email client to receive, open, and reply to your emails.
In other words, you can use both email software simultaneously, without worrying that you will lose any emails or experience issues. The only difference will be which app opens by default.
However, do keep in mind that if you have a POP account, your emails are being stored on your Mac (not the server), and you'll have to import/export emails. But, if you have an IMAP account, you will be able to use both apps without any issues.
Keep reading to find out how to set Outlook as the default email client on Mac devices!
How to Make Outlook Your Default Email Client
Changing a default tool on a Mac can be confusing. We've prepared four simple steps that will get it done in minutes.
1. Make sure you have both email clients installed.
2. Open the Mail app.
3. Choose Mail > Preferences, then click General.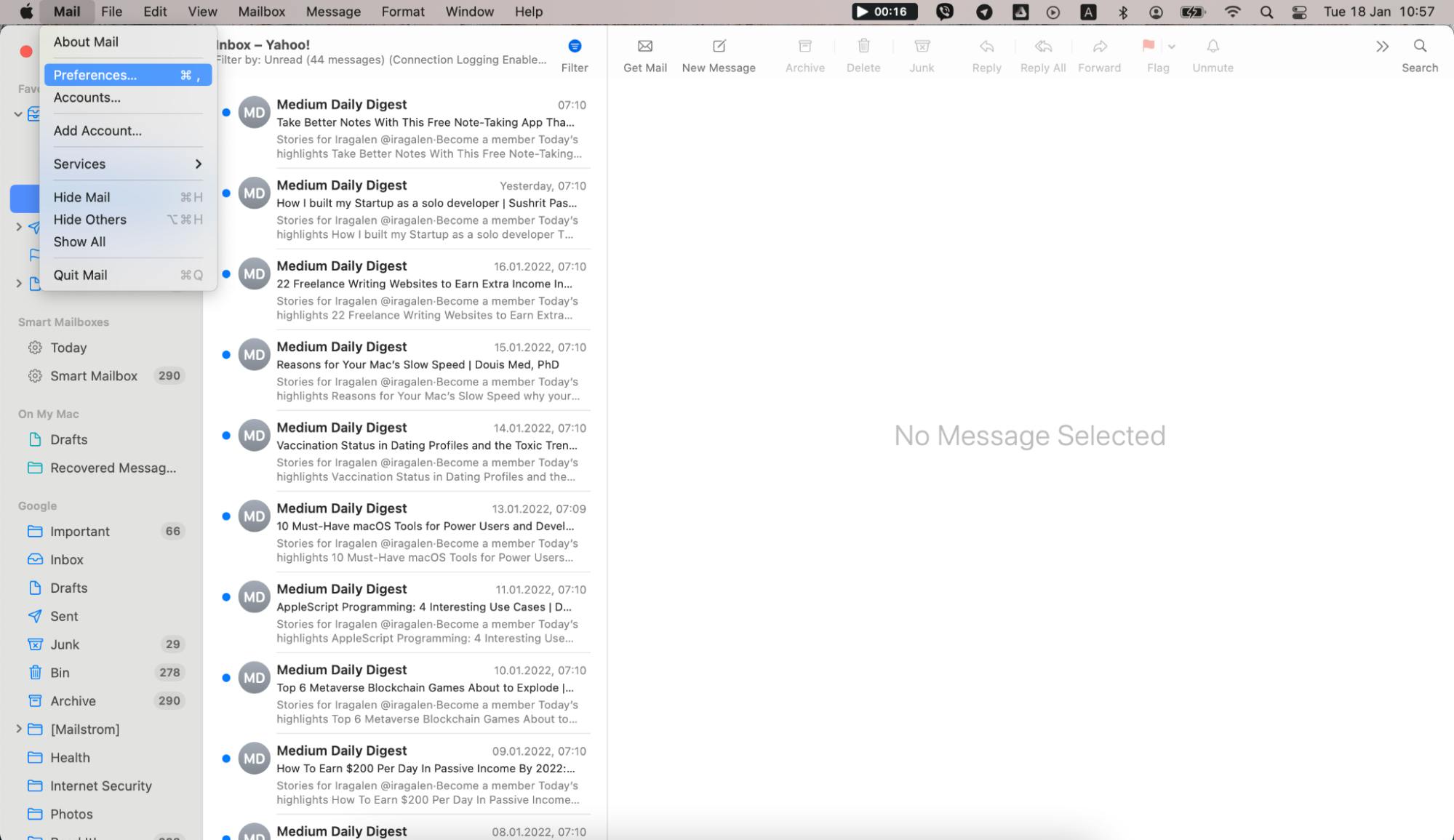 4. In the Default email reader section, select Microsoft Outlook from the drop-down menu.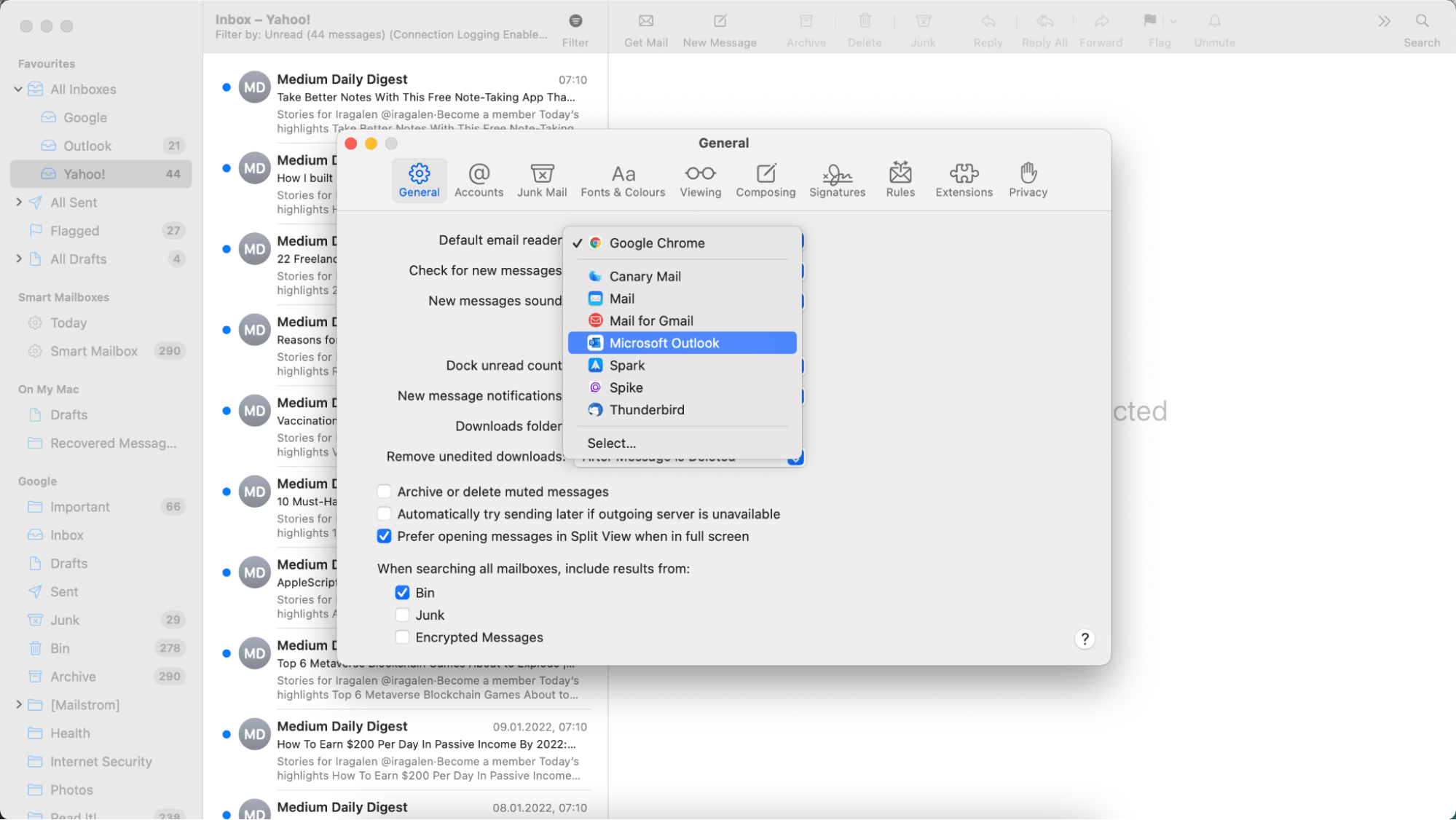 Note: If you're not sure whether you have Outlook installed, open the Finder and then select Applications on the left side. In the Applications folder, find and select Microsoft Outlook.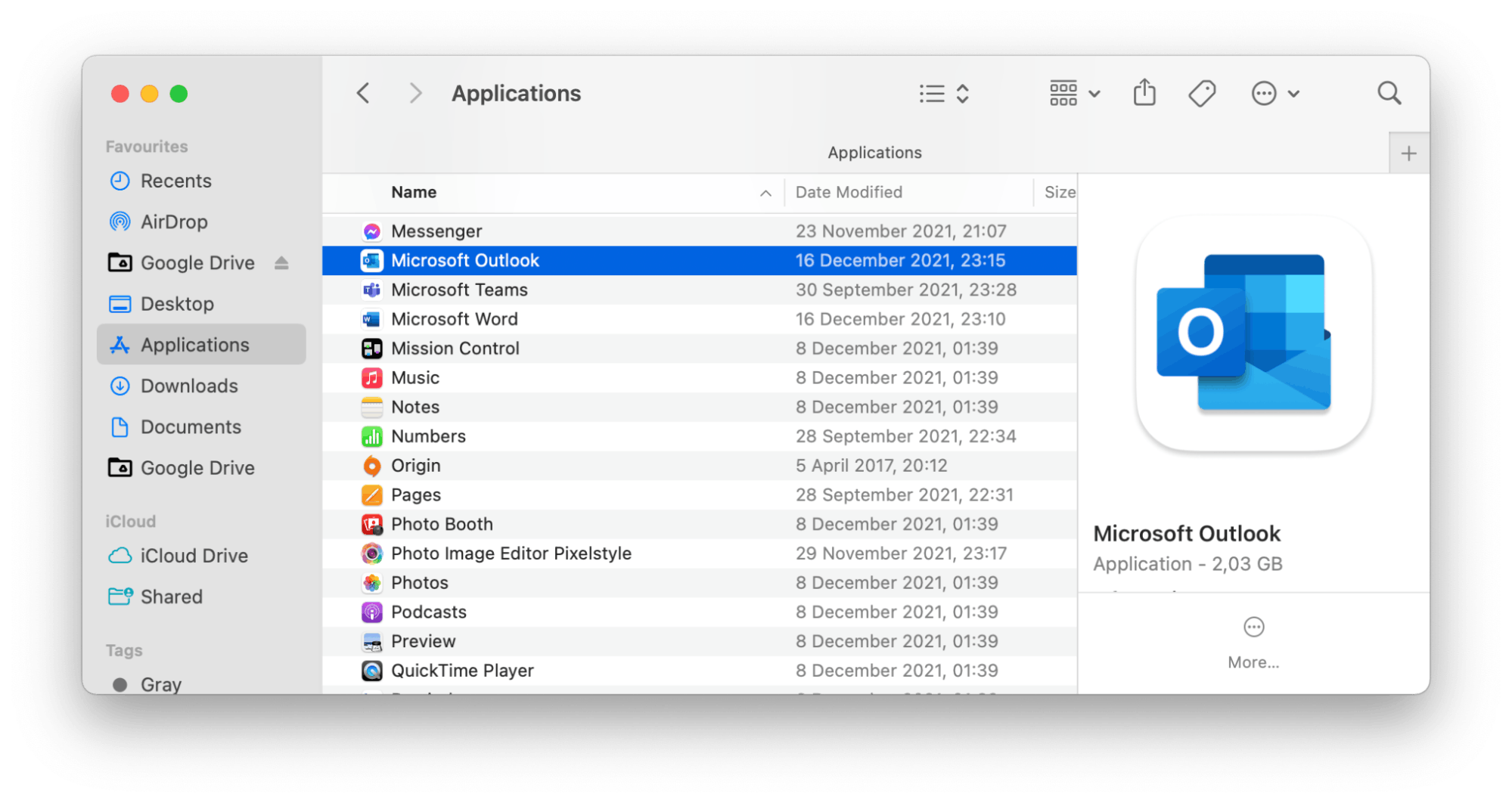 If you cannot find Outlook, search for the app. If it still doesn't show up, it means the email client isn't installed. Install it first by opening the App Store, searching for Outlook, and then clicking the Get button.
Alternative Default Email Clients
As already mentioned, Microsoft Outlook is one of the most popular applications available for many reasons. Many users like it because of its familiar interface, ease of use, and quite often due to force of habit. However, Outlook may not be the best email client, as it has some nuances that significantly affect its functionality.
Here are some issues you may face as an Outlook user.
1. Outlook won't open
Some users have reported that Outlook won't open and that the email client crashes too frequently. This is typically due to a broken update or an incompatible Microsoft Office version. But, in some cases, upgrading to the latest OS release on Mac can fix it.
2. Outlook can't send or receive messages
Another common concern involves users being unable to send or receive messages. Incorrect server settings usually cause this issue. It is possible to fix this by logging in via your web browser and then changing the settings in Outlook.
3. Outlook is slow or locks up
Some users have also reported that Outlook freezes or takes too much time to load. They've even gone as far as uninstalling the app, re-downloading, and installing it again to fix it, but that didn't work either. However, updating Microsoft Office has proven to fix this issue in some cases.
Even though these issues are not irreparable, some users may find them hindering and difficult to resolve. However, you don't need to deal with these issues — there are other practically flawless email clients that work seamlessly.
Instead of Outlook, we recommend trying Scailer. It is one of the latest and most advanced email clients, and it deploys unique features that can't be found in other apps. Scailer makes it easy to focus on emailing one person without the necessity to create a separate folder. No more mess or wasted time. 
Don't skip the next section, as we'll explore all the amazing features of Scailer!
Scailer – An Innovative Outlook Alternative
Scailer is an email client that allows you to manage, read, and send messages on the go. It also offers a ton of truly innovative features, making it an excellent alternative to Outlook.
It's time to discover all the benefits of Scailer!
Automatically organized inbox.

Scailer automatically organizes your inbox in an orderly thread. You won't have to waste any time on setting up folders and processing rules anymore.

Emails are always safe and secure.

The Scailer database is encrypted with a protected, machine-dependent key. Even if someone makes a copy of the database, they can't use any other program or copy of Scailer to read your messages.

Understanding of your contacts.

Scailer searches the internet for publicly available information about your contacts, such as their social media profiles, to give you more in-depth information about them.

Organized correspondence.

Organize your conversations by subject and quickly see what your contacts say about a particular topic.

Multiple email accounts.

With Scailer, you can merge multiple email accounts into a single app.

Modern flat view.

Scailer analyzes the structure of your inbox messages and transforms emails into a modern flat view, making them easy to read.
Already impressed? Here's how to set Scailer as your default tool.
Changing Your Default Email Client to Scailer
Here is a super simple guide that will teach you how to change your default application to Scailer.
1. Install the Scailer email app.
2. Open the Mail app.
3. Choose Mail > Preferences, then click General.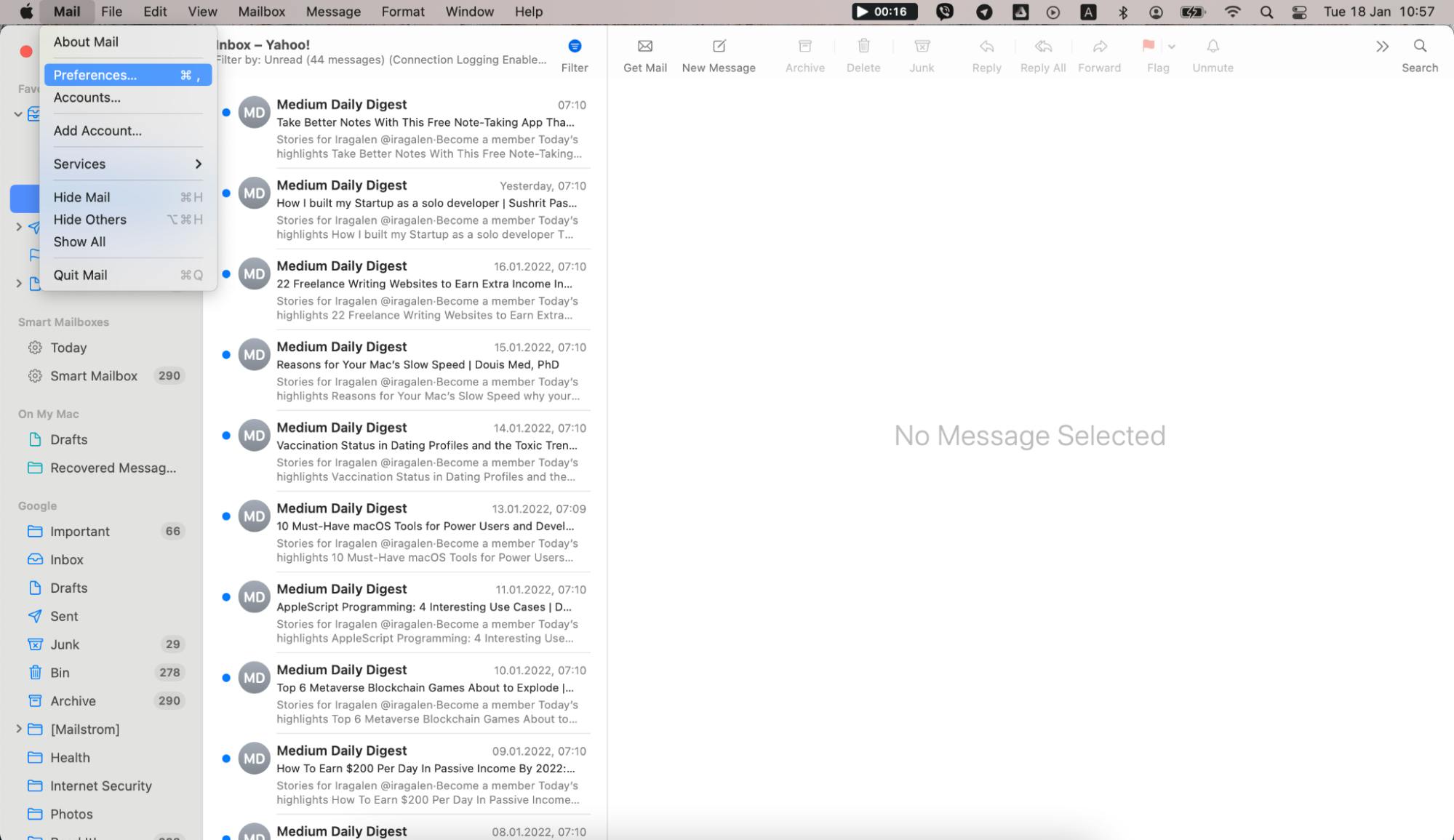 4. In the Default email reader section, select Scailer from the drop-down menu.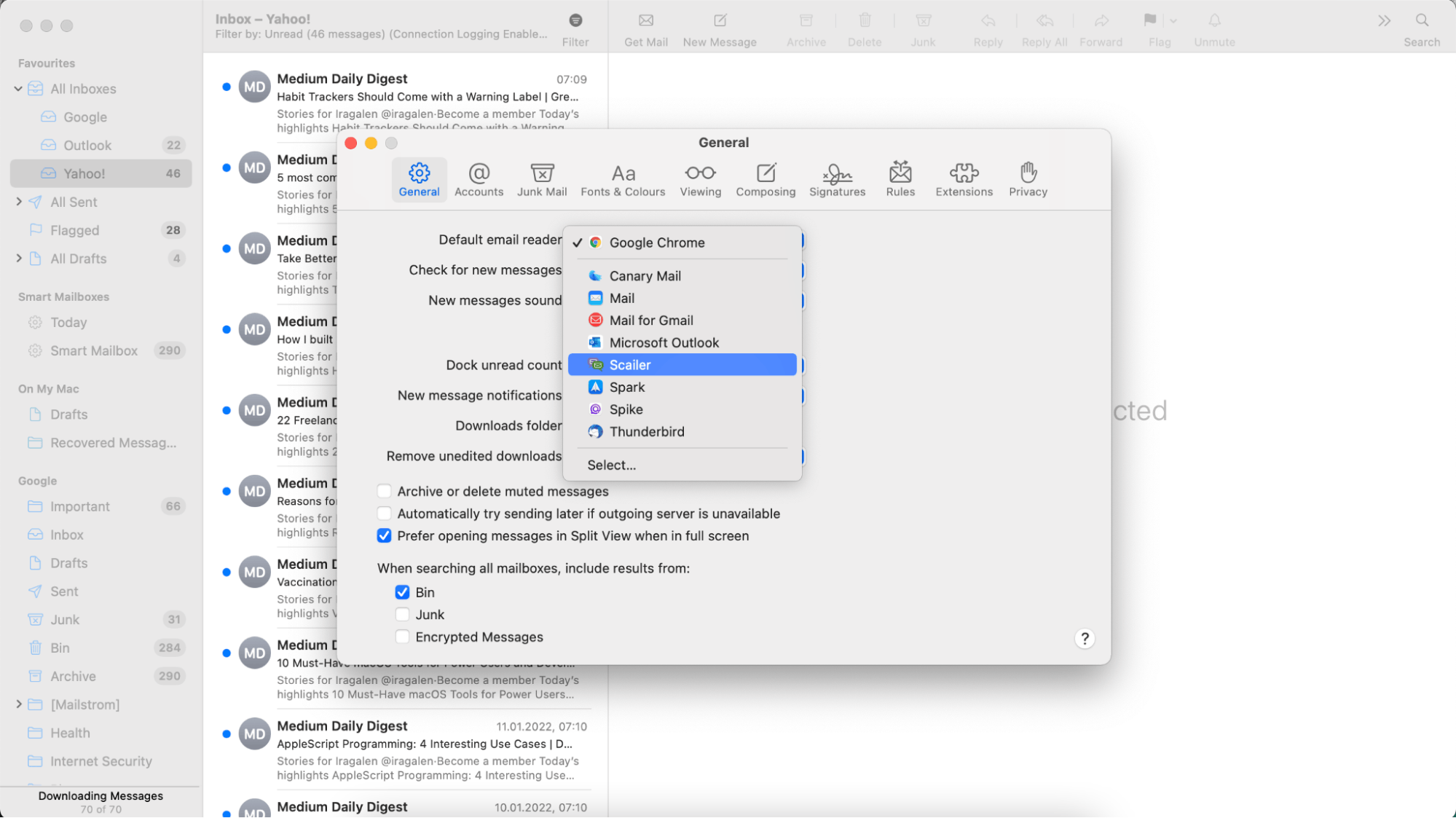 Conclusion
When it comes to choosing a default email client for macOS, there are several options. You can stick with the Mail app, switch to Microsoft Outlook, or try out a new and innovative email client such as Scailer.
Apple's default Mail app is a decent email client. However, if you are not satisfied with its features and functionality, you can easily change the default email app on your Mac.
Your first option might be to use Microsoft Outlook, but if you're looking for a tool with innovative features that works seamlessly on Apple devices, you can do better than Outlook. With Scailer, you'll be able to track conversations easily, group emails by contacts, and keep all your emails safe and secure! Save time and easily track conversations with Scailer, the first secure application that groups emails by contacts!